Hi There Storm Chasers!
I'm here with another indie polish review for you. I've got two shades to show you from the new collection from
Polish Addict
that just released TODAY and man are they pretty! These are jam packed with chunky glitter in just about every shape, size and color. When people say glitter bomb this is what they are talking about. Wanna see? Of course you do!
First up is Polish Addict 80's Baby, which is a slightly green tinted base with multi colored, shaped and sized glitter. I wasn't sure I'd like this one til I layered it over Milani Black Swift and
Lime Crime Pastelchio
and then WOW!
I'm so in love. Its beautiful. Are you in love too? Check out the photos after the break.
I used the dabbing method to put on 80's Baby as there was so much glitter that it did clump together a bit, but I really don't mind dabbing, it means more even placement and I'm a little OCD about my glitter placement.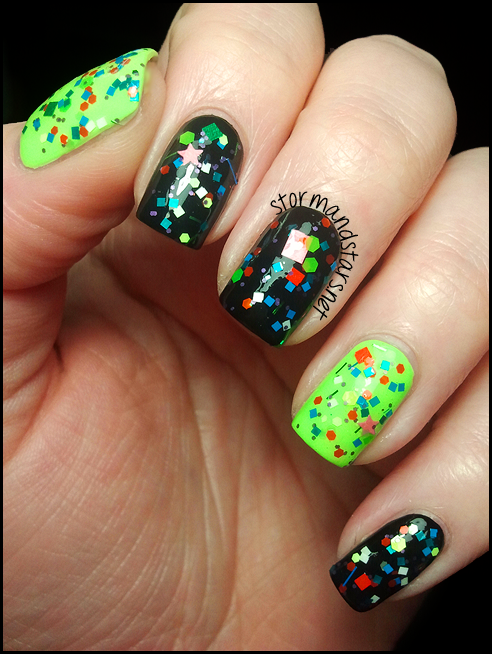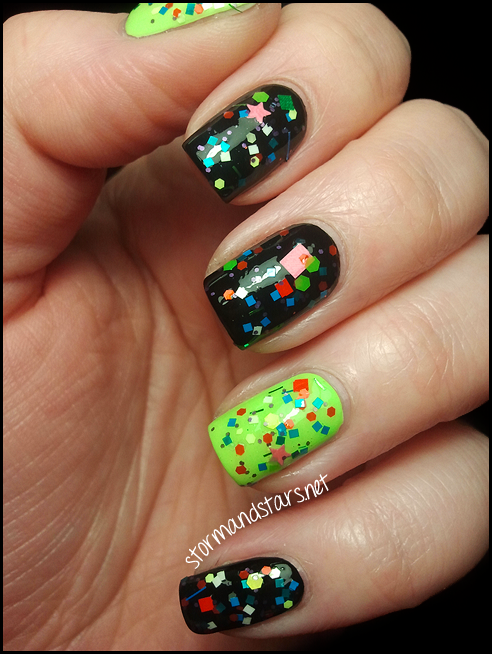 I didn't have trouble getting most of the glitter out of the bottle, though the huge pink squares and the pink stars were a bit scarce. I only ended up with one square and I fished for the 2nd star there on my green ring finger.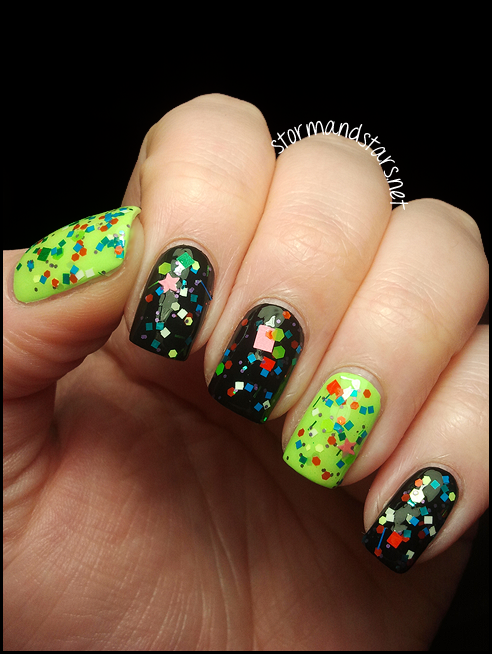 Over black this really reminded me of the 80's. I am a child of the 80's and this hit the nail on the head with the jumble of every color and shape imagineable! I used one thick layer of Seche Vite to even everything out and make it super glossy. :)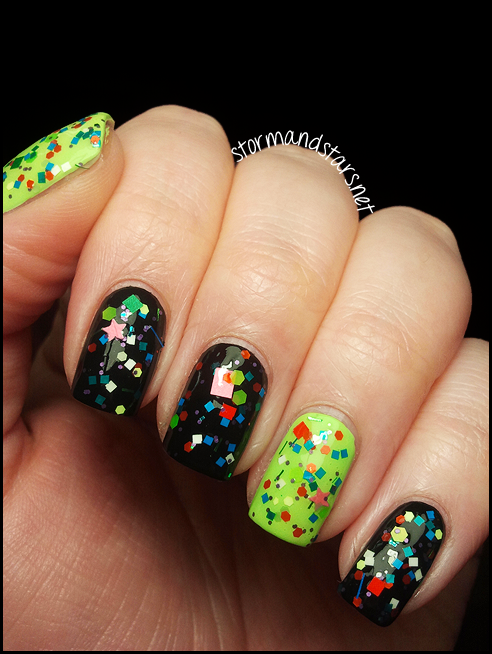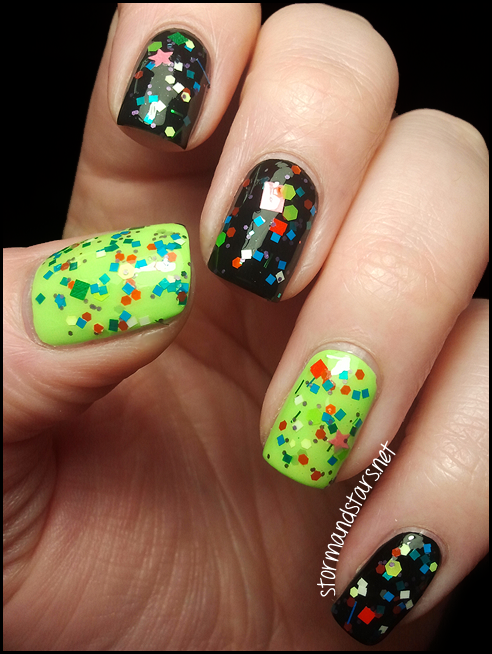 I loved 80's Baby and will definitely be wearing it again!
Next up I have another glitter bomb for you called Gossip Girl! I knew I would love this when I saw the bottle. All the shapes were great, there are even diamonds in this one, but it was the PINK that stood out to me. Yeah, I love me some pink glitter.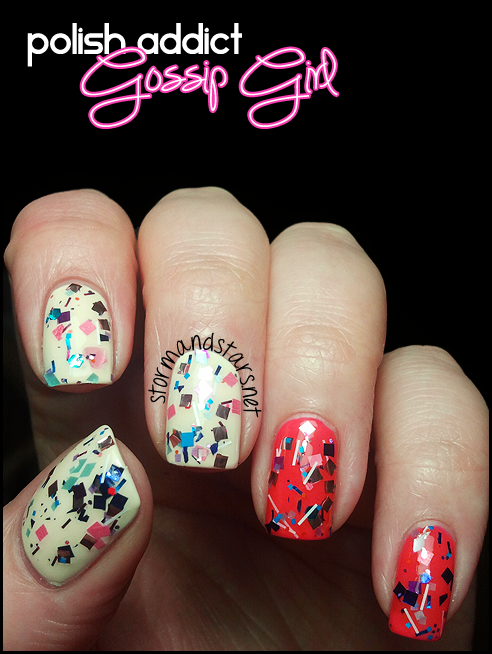 Gossip Girl is a clear base with lots of shapes, sizes and colors of glitter, but the standouts are the beautiful metallic squares and the blue/silver diamonds. I just love this. Its so graphic.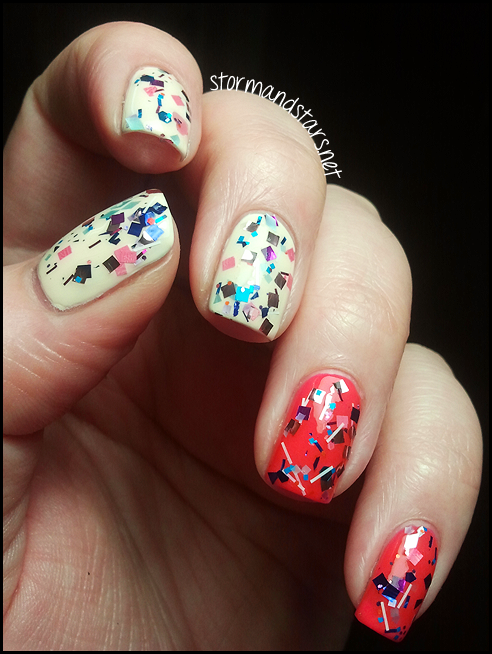 I chose to layer Gossip Girl over another Lime Crime shade, this time it was
Lime Crime Milky Ways
, which was actually my girlfriend's pick, so you can thank her. It looks fab over that creamy base. The ring and pinky are layered over Wet n' Wild Pom Pom Kelly from the Saved By The Bell collection, though its really a highlighter neon pink. I just couldn't capture the color with my camera.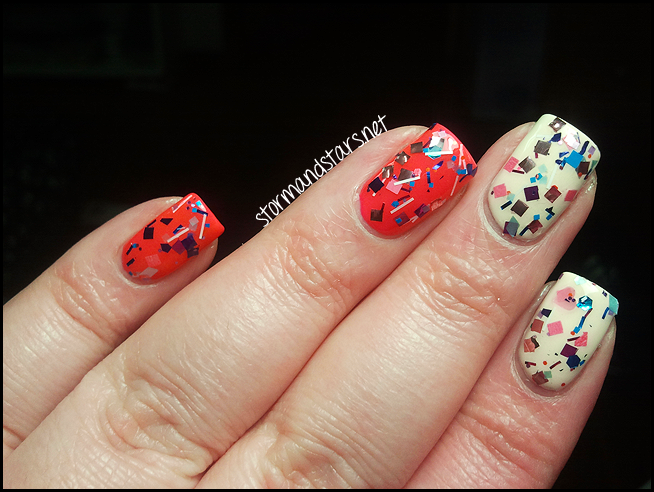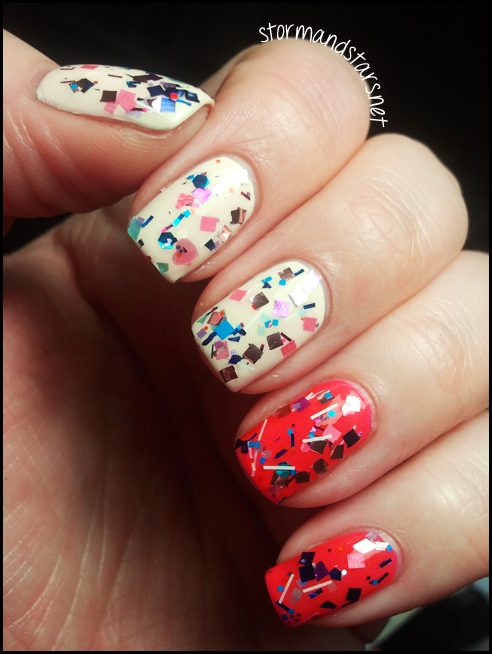 I also used one coat and then the dabbing method to fill in any spaces for this polish and it worked out rather nicely. I had no trouble getting glitter out of the bottle and I really just love all the colors together. I want to try this one over black as well.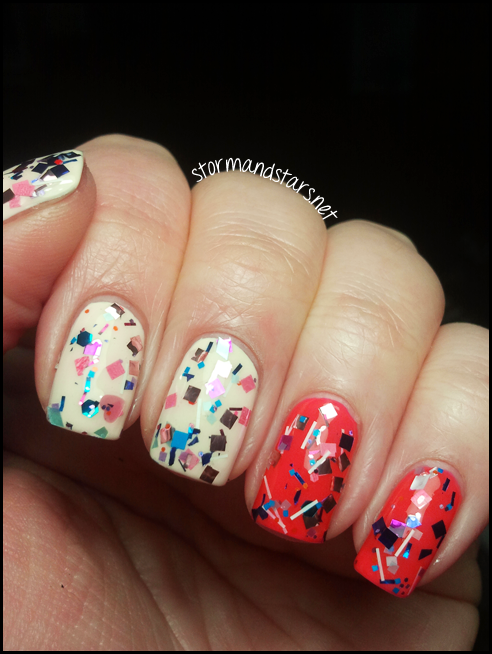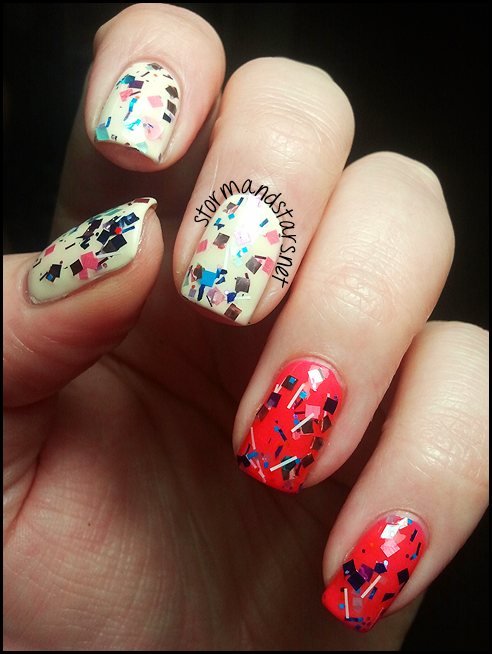 Both of these lacquers had a great formula, not to thick or runny, and Laura of Polish Addict was a joy to work with. These will most definitely NOT be my last Polish Addict glitters. You can follow Laura on Instagram at @polish_addict_34 for more photos of her creations. :)
I hope you all have a wonderful weekend and I'll see you Monday!
xoxo
Storm
The product in this post was provided for review, but all opinions are my own.